In a world of social media, TikTok marketing has vastly become one of the best ways to showcase your soap business. This new and fast social media platform is currently one of the most popular applications on the market. TikTok allows users to create short, looping reels with various effects and music. A large number of popular brands and small businesses are already learning how to make a profit through this application. Therefore, if you're in the soap making industry, you've probably already done some research on soap business tiktok trends for 2023.
Although TikTok is a relatively young platform, brands of all sizes choose it as their platform of choice for a reason. 60% of TikTok's audience consists of users between the ages 16 and 25 years old. This data shows that TikTok is not only a platform for Gen Z and Millennials, but all ages, with the youth being it's prime users.
Adding a new social media app to your marketing strategy can be challenging. And learning how the platform works can be a headache. This is why we enlisted some ideas for you to get started as a soap business creator!
Why is TikTok Good for Soap Businesses?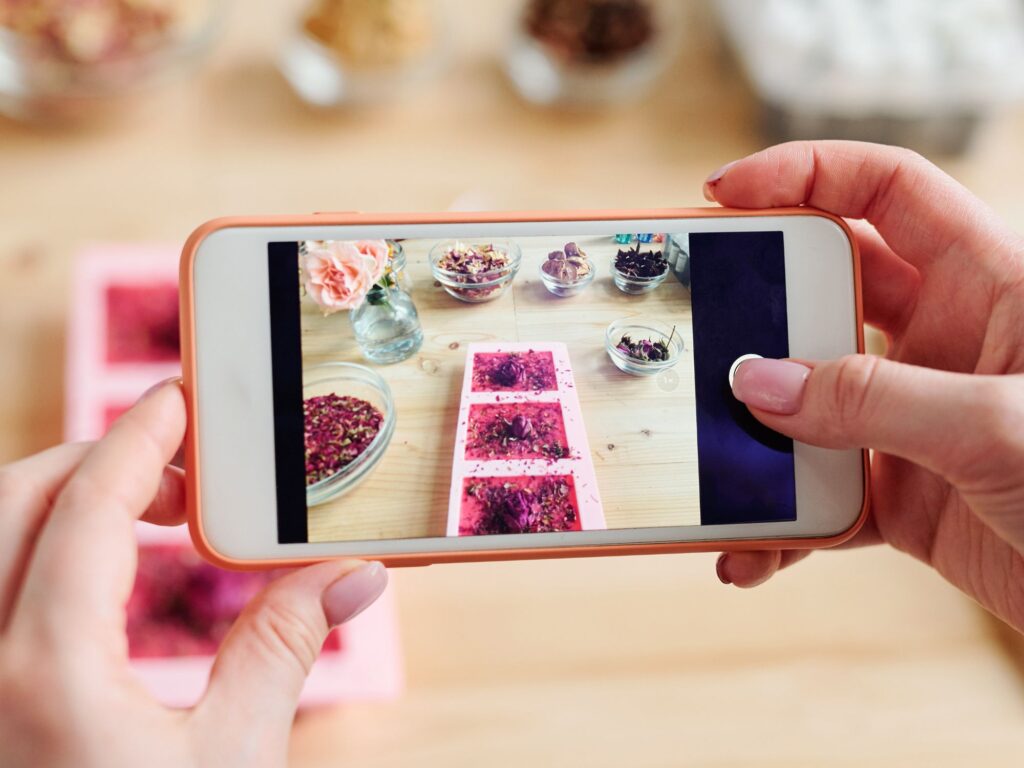 TikTok has 500 million users worldwide, and it was the most downloaded app for iOS in the first quarter of 2018. The average time people spend on TikTok is 52 minutes. Which is very close to the time they spend on other popular social networks like Instagram, Facebook, and Snapchat. For business owners, this leads to creating engagement. TikTok is full of active young audiences who are willing to consume catchy, attention-grabbing videos, and the advertising that goes with them.
Unlike other social media platforms, TikTok doesn't just show you videos from people you already follow. The app's homepage, known as the For You Page, is a never-ending stream of content that mixes in a healthy dose of TikTok videos from people you don't follow, but that the app thinks you might like. That means there's a high likelihood of potential customers finding your videos without having to go directly to your profile.
TikTok wants to keep people on the app for as long as possible by continuously feeding it's users new videos. That means if you sell soaps, for example, TikTok wants to get your content in front of the eyes of people who already have an interest in products similar to yours. This will help you as you discover what viral tiktok trends for small businesses suit your soap business.
Proven TikTok Success for Businesses
Data shows that 15% of all adults and 36% of Gen Z have made purchases based on TikTok in 2022. There's even a #smallbusiness community on the app for entrepreneurs who share and boost content with their own trends, sounds, and hashtags.
With a free TikTok business account, you can put your shop's website in your profile bio. Leading customers directly to your store. This is just one way you can use TikTok as a monetization tool for your soap business. TikTok can do wonders for your brand, but the trick is making content people actually want to watch, favorite, and share.
Small Business TikTok Trends Ideas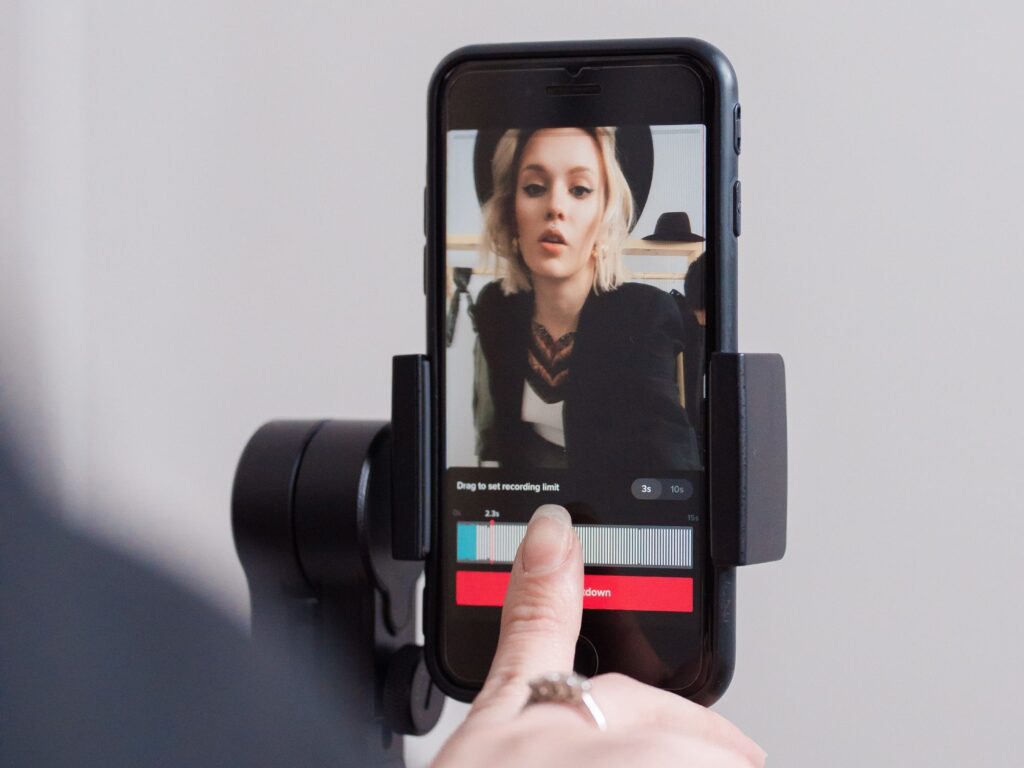 We have listed below some free small business TikTok trends that you can use as a Soap Maker. These ideas can be a direct template for you to follow. Or it can be that starting point that helps you put your own ideas to life. Let's get begin!
Behind the scenes
Showing the inner workings of your soap business is one of the most popular types of videos that companies post on TikTok. Customers and other small business owners love getting an inside look into what creators are doing. These TikToks show the real side of running a business. It gives customers a look at how their orders come together. Your audience will love your transparency and be excited to know a bit more about who is behind their favorite products.
Sometimes business owners struggles with what type of things they should actually show. As an example for a soap maker, you can simply start showing how you run your own business. Show your audience how you are giving a human touch and satisfy curiosity.
You could film a TikTok of:
Organizing your products or office space
Celebrating milestones like your 100th sale or an anniversary
Preparing for a new product launch, showing how you design and select products
Packing an order
Making one of your best seller products
A day in your life as a soap business
Give Soap Business Tips and Advice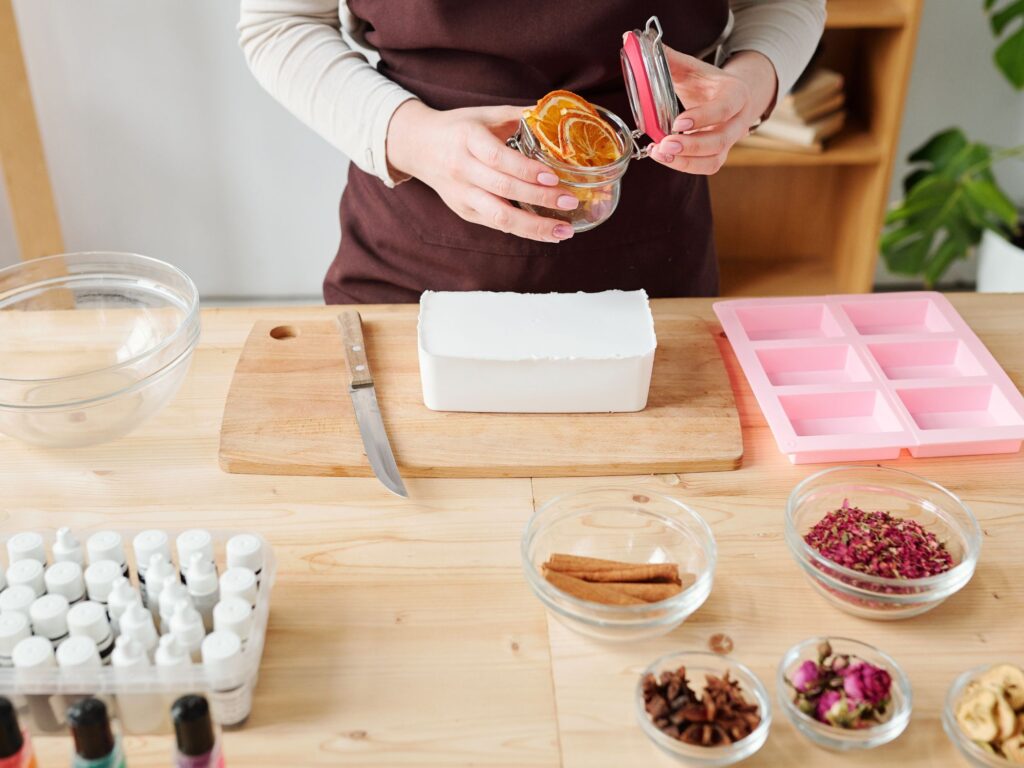 There are other small business owners and aspiring entrepreneurs on TikTok who love to hear advice. You can provide that. This gives you the opportunity to potentially grow your customer list. While simultaneously helping grow your followers. Now even more people will see your TikToks.
As a soap business owner, we know you have learned a lot of things along the way that can help more people that are just getting started. You don't have to reveal all your secrets, but transparency lends itself to authenticity. In this process, you can also build a personal brand and be an inspiration to others.
For example, you can share:
How to launch a new product successfully
The best E-commerce platforms for soaps-makers
What to do and not to do when you're starting your soap business
The best marketing channels for selling your handmade soap
Show How Your Soap Products Are Used
You should absolutely show off your products. However, you don't have to (and shouldn't) solely focus your content around this. Add in videos around your products when the timing is appropriate.
The best way to do this is by showing your products while they are actually being used. Demonstrate the benefits of your products and how they can assist in advancing the live's of your customers. You can show how can you add your soaps to a skincare routine, or the benefits of the ingredients that you use to make them.
Keep in mind that people want to see and understand how your product will fit into their lives, and this format will show them.
Get to Know You or Your Employees
TikTok is an app driven by people and personalities. The TikTok videos people simply talking to the camera are the bread and butter of the application. You don't need to be a professional to do this. Just be yourself, and naturally showcase your personality. The platform is all about authenticity. This can be challenging at the beginning if you're not used to be in front on the camera, but it'll get easier over time as you became more comfortable.
People love to get to know the person behind a brand to add a human element. It's far more engaging to see a face, rather than a steady stream of products. If you're not sure where to begin, try posting a simple "get to know me" TikTok and talk about why you started your soap business.
Find a Tiktok Trend and Apply It!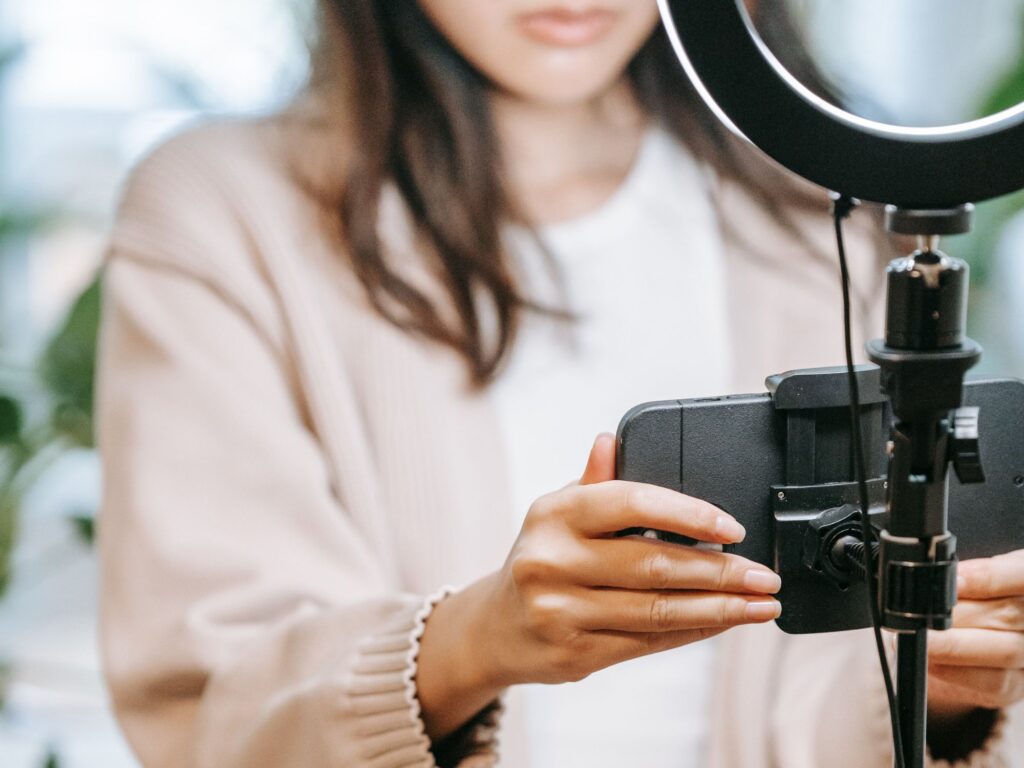 If you're really stuck for an idea, TikTok is never short on trending sounds, stickers, memes, or challenges. This does require some time investment to scroll through TikTok and see what's trending at that particular moment in time. Following other businesses and seeing what they're posting is a good way to get inspiration for your own ideas.
Listen to the sounds and think "How can I apply this to my business? How can I put together a skit, or apply this to something that's happened to me". For variety, you should consider ideas that aren't even business related from time to time.
Collaborate with Influencers
TikTok influencers may not be known for their large audiences like the influencers on Instagram or YouTube. However, they can help you target users and promote your soap business. Collaborate with influencers whose audience might be interested in your brand and who would most likely buy from you. This is similar to how Instagram advertising works.
Influencers are using the TikTok platform to produce high-quality content to get more sponsored publications. If your budget allows partnering with the influencer to promote your products, then do it. Partnering with an influencer saves the time needed for promotion while increasing brand awareness. TikTok content creators already have highly loyal followers. Therefore, be sure make sure that their audience matches your customer profile, and the rest should work out effortlessly.
Collaborate with Other Business Accounts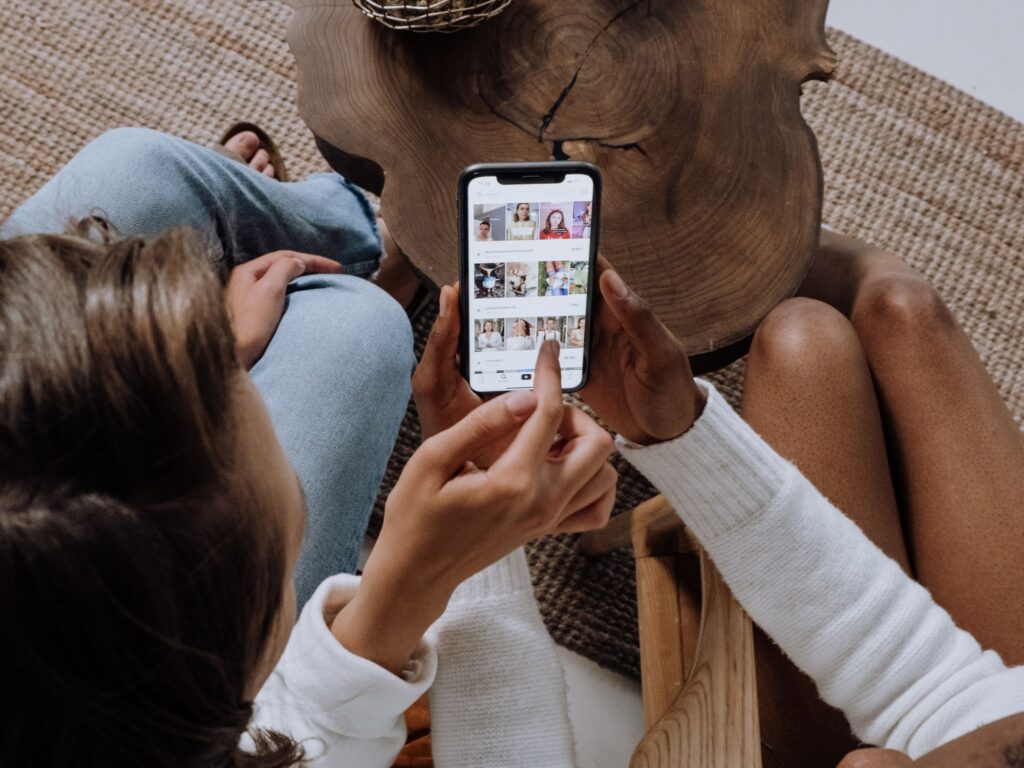 One of the best benefits to come from TikTok is the sense of community it brings it it's users. On TikTok, there is a place for everyone! Whatever your interests, hobbies, likes or dislikes are, you will be able to find someone who can relate to you on a personal level.
Since it's very possible to niche down with TikTok, you can be certain there are businesses similar to your own that are also on the app. Rather than only looking at these businesses as competition, make an effort to connect with the creator. Yes, you should be taking notes on the things they do and don't do. However, you should also think of them as your alliance.
Becoming friends with other creators like yourself opens many other doors. Not only will you have more resources and connections, but you now have someone who likely would be eager to help you.
Consider the creators who you interact with most to collaborate with. It would be wise to partner with a business who has a product different from your own, yet goes hand-in-hand with the items you produce. This opens a mutually beneficial space for both small businesses to expand their audiences and customer net.
Study, Study, Study
Our final tip to share for soap business tiktok trends, is to keep studying the platform. The last thing you want to do when promoting your soap business on a social network is to make your entrance without a complete understanding of how it works. You need to study what type of content performs well on TikTok, how to reach other users, and how to make your soap business fit the platform naturally. This research will help you to understand how to start a small business tiktok.
TikTok also tends to favor accounts who spend more time on the app. Therefore, the time you spend looking at what's trending will only benefit your account. The platform will also learn your interests through your watch time, likes, and saves. This will help the app push out your content to users who have similar interests as you. A.K.A., your target audience.
This is a social network where creativity matters much more than other platforms. TikTok's audience is mostly looking for enjoyment and humor. This is the time people spend to relax, unwind for the day. Serious sales topics are not meant for this app. Explore new ideas for promotion and show more of your creative side. You can download our free soap business content guide below!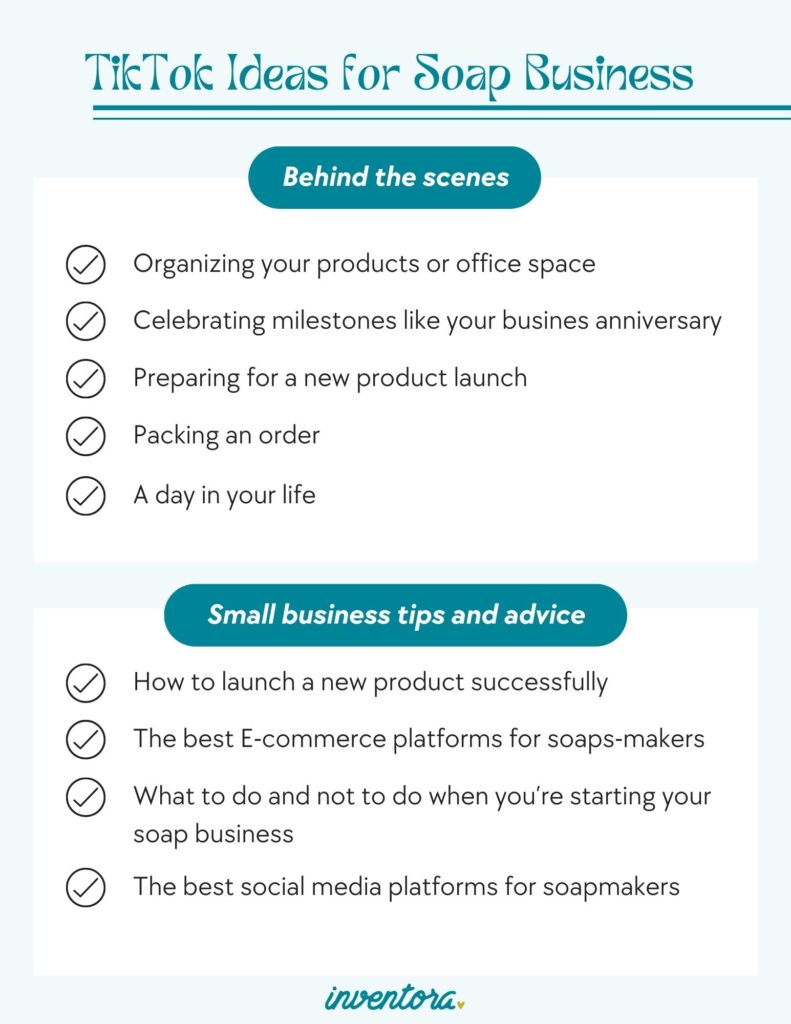 Final Words of Advice
After reading through our soap business TikTok trends for 2023, we feel confident that you now have a few business ideas to grow your brand on the platform. A key takeaway from this is to know that each format can be used in different ways. So, even just using these ideas as a starting point, you can be well on your way to posting on a regular basis. Some videos will become success stories, and some won't. But without experimenting and trial and error, you may never know when you'll make it big.
---
To receive more educational documents for your small business, sign up for our newsletter below! You will also receive access to seminars for small business owners, special documents to help organize your business, and more! Get started streamlining your soap business today with Inventora's free hobby plan for inventory management. Or, unlock unlimited access to all of Inventora's features with our affordable business plan! Follow us on TikTok for more content ideas at @nicolehandmade!