Everything that goes into your small business effects the precipitation of your brand and the experience your customers have while shopping with you. This even comes down to the details you may not at first consider; like selecting packaging for your small business. This could be the color of your tissue paper, the shape, and size of your box, or even the personalization you choose to add to each order. It's all about making the unboxing of your products a fun and memorable experience. Studies show that the personal touches are put on packaging, does effect the likelihood of repeat customers. This is why it's so important to learn creative ways to customize your small business's packaging
Custom packaging for small businesses is an essential branding tool. As the eCommerce market is getting exponentially larger and more saturated, having creative and visually appealing packaging is key to staying one step ahead of competitors.
What is Custom Packaging?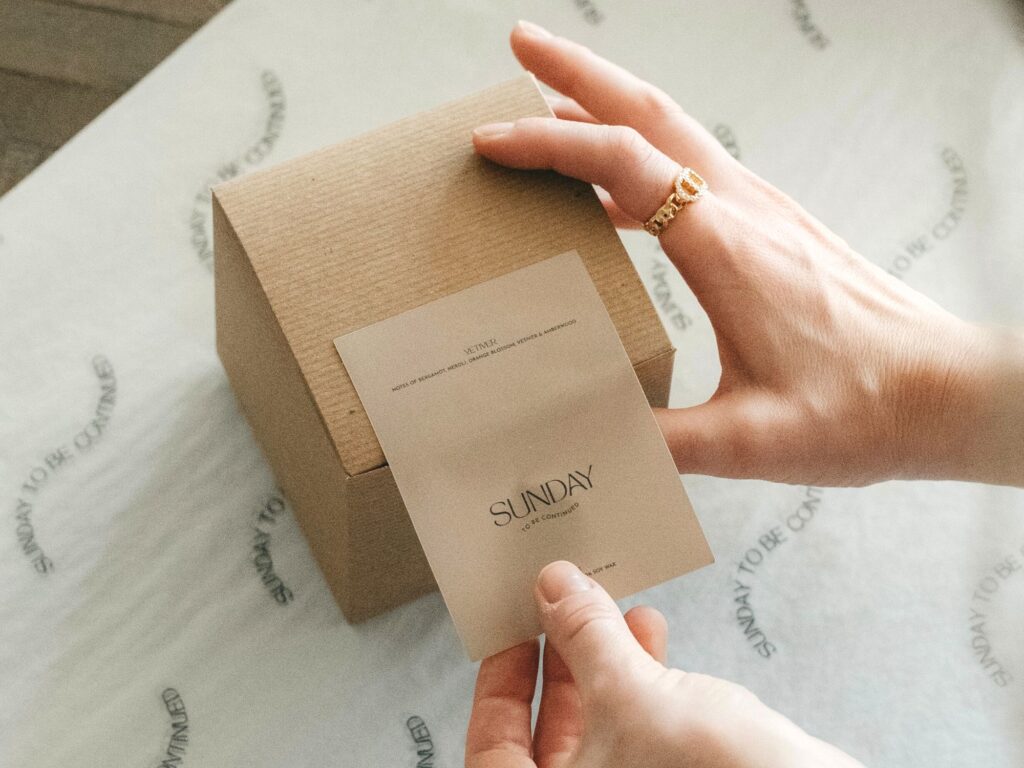 The basic concept of custom packaging is that this is what handmade businesses use to ship their products in for their orders.
Custom packaging is tailored around the needs of the specific businesses the size, shape, color, and materials used for the packaging are suited to reflect the product and business as a whole. Thus creating a better buying experience for prospective customers, and setting expectations in hopes of return customers.
Custom packaging is a must-have for small businesses, as it is the first thing buyers see when their shipment knocks at the door. It is the first touch that your customers will have with your businesses. Think about what type of experience you want your customers to have. This is a basic, and underrated tool for building brand loyalty and return customers.
There are numerous packaging solutions for small businesses. The choice entirely depends on the brand's mission and the product itself. It should reflect the respective brand's unique identity and stay consistent with the colors, logos, and fonts.
It's important to carefully consider your handmade business's logo and brand colors. As this will become the way customers recognize you. Giving your logo a facelift from time to time is okay. However, it's important to keep things as consistent as you can without changing anything too drastically over time.
You should also be tasteful with this. Although, it's great to have your logo on your shipping supplies, it can look overdone if done in an excessive amount. The downside to custom packaging, is if it isn't done properly, it can actually diminish the appearance of quality of your brand. When in doubt, keep it fun, but simple.
The Benefits of Custom Packaging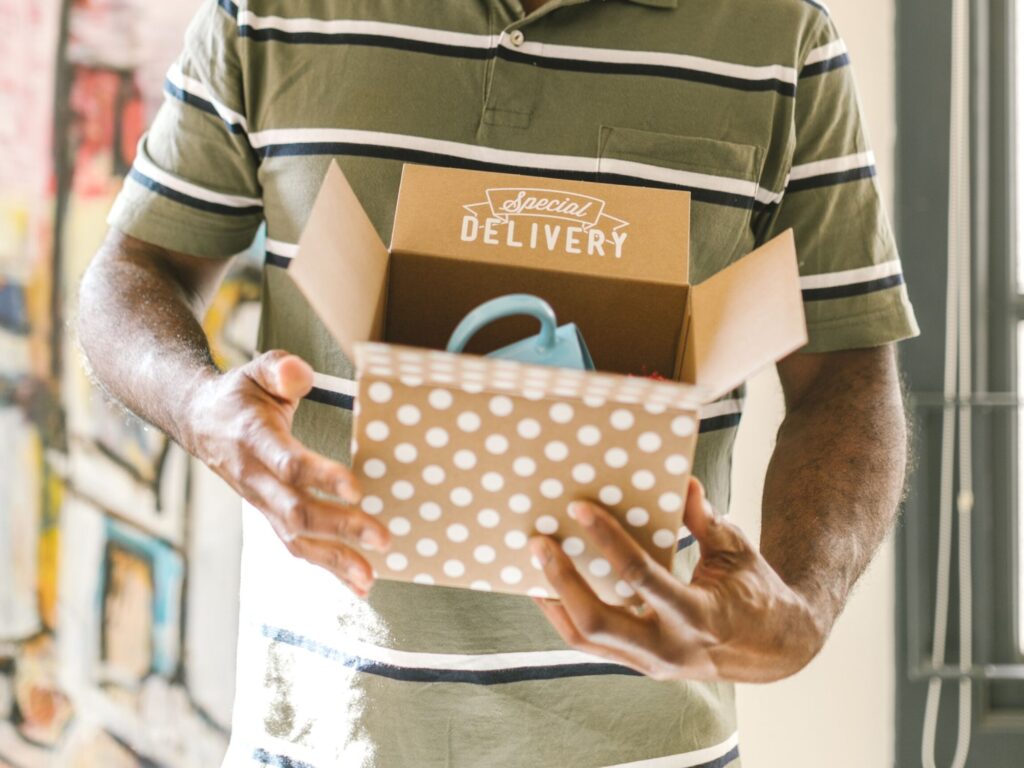 Aside from being recognizable to customers your logo and brand colors, there are other numerous benefits to adapting creative ways to customize your small business's packaging. Receiving packages in the mail can feel like Christmas! Advancing your boxes and bags can just the right touch to set your business apart from your competitors.
Excellent Customer Experience
A healthy conversion rate has always been the main goal of any marketing effort. As crucial as it is, this KPI won't help you retain customers without truly understanding their behavior. The journey from shopping to shipping is even more important for your brand.
Think about how unboxing videos have become such an important piece of content creation in social media. The massive popularity around unboxing videos has created an environment where prospects form an opinion and a bond with a business before they have even opened their package.
Ideally, shipping boxes for small businesses should use branded and/or unique materials. They should also include the best shipping tape. All these details are going to be more expensive than a basic packaging but it is a major part of making your brand stick in people's minds and create a positive experience. With this being said, it is important to set up a budget for this and have it as one of your important expenses. Establishing this early on will be beneficial to the finances of your business.
Brand Recognition
This is one of the biggest challenges of every handmade business. Even for big corporations, brand recognition can be a challenge, as we know that the market is full of lookalike products and businesses. This is where custom packaging can allow your customers immediately recognized who their package is from.
Custom packaging can provide the consistency and cohesiveness that your brand needs to differentiate from others. It also has to align with the overall branding and marketing that your small business portrays. Branding your products and packaging can play an integral role in the customers' decision-making process. Your custom packaging should subtly reflect your brand's mission statement, core values, and how your products can help your target audience solve current issues.
Sustainability
Another major brand recognition tool is sustainability. As of recent, there has been a trend in consumer buying habits towards brands that do business with causes in mind. The increasing number of the majority of consumers prefer to buy from companies that share their values and are taking sincere steps to affect positive change. A study shows that 35% of consumers are willing to purchase a higher cost product if it is more eco-friendly than the other less expensive ones. Eco-friendly packaging options use fewer materials, which makes it a more cost-effective solution for packing your products.
For this reason, consumers are more inclined to choose a company that uses recyclable packaging. As a result, more and more companies are investing in environmentally friendly initiatives, especially in packaging and delivering their goods.
When it comes to custom packaging for small businesses, you should consider how an eco-friendly packaging process increases your chance of connecting with your target audience. Taking detailed steps like these, will not be over looked by your customers, but appreciated. This can contribute to a buyer feeling a sense of good after they purchase on of your products.
Environmentally speaking, selecting eco-friendly packaging is also an overall great way to help reduce our carbon footprint.
Shipping Fees Management
Learning creative ways to customize your small business's packaging is a good decision from a cost standpoint, as well. By choosing this option, you can avoid using larger boxes that you don't actually need.
One of the biggest issues is that small business owners have to worry about meeting a minimum order quantity and/or dealing with packaging that is not the optimal shape or size for their products. When this happens, they have to sell out more to cover additional costs. This is something that can become a problem and cause a lot of stress when you have a tight budget. Considering that shipping companies and services charge for volume in addition to the weight of the package. Using custom small business packaging is definitely a way to go, or ship, if you will.
As a business owner, you should look for custom box manufacturers that offer a good balance of quality and price. Bulk buying is the best option when it's feasible for your small business.
So, how do you spruce up the packaging for your small business? We've established 5 creative ways to customize your packaging to help your customers have an immersive experience.
Handwritten Notes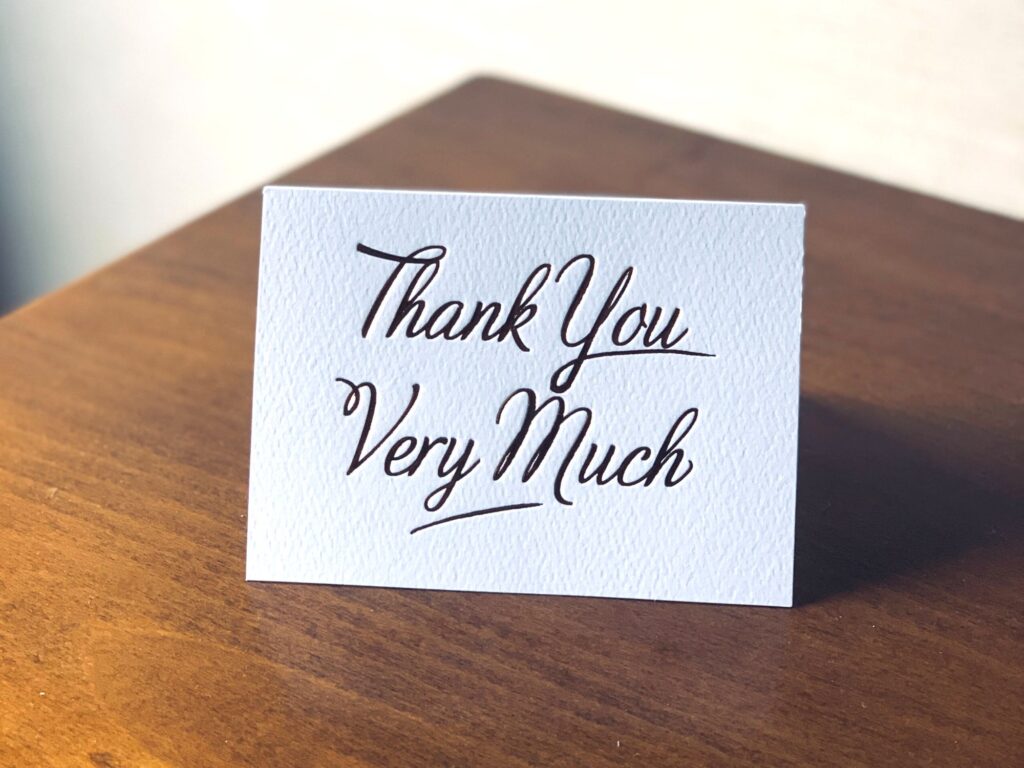 This goes so far with your customers. Although, it can sometimes be tedious and time consuming, adding this personal touch to each order makes customers feel like they have a personal connection with you. If customers feel like they know you on some level, they are more likely to be a frequent and loyal shopper; choosing your small business over your competitors. These notes can be simple and sweet. You do not need to write more than 2-3 sentences. However, taking the time to do this can really make all the difference. You could even print several notes with a key phrase on it, then write one closing sentence with a personal "thank you" at the end.
If you're fortunate enough to have staff, you could have part of the production process be to write a simple note after each product completion from the maker. "Made with care by Dianna. We hope you love what we've created for you!". Anything to help create a feeling of personalization is your goal!
You could also add custom tissue paper. Wrapping individual products within your small business packaging boxes demonstrates that you take good care of your customers' orders and that their goods are valuable to you even after they leave your facility.
Add Your Small Business Logo
Adding your logo to your packages is not only a form of good advertisement, but will also help set your packages apart from other brands. You can do this in many ways. Start with custom tape, boxes, or stamps. You can go to places like Vista Print to get your logo put on your packaging supplies. Consider having packaging tape with your brand name, boxes with your logo stamped or printed, or stickers with your logo that you can put on your packages.
Colors + Design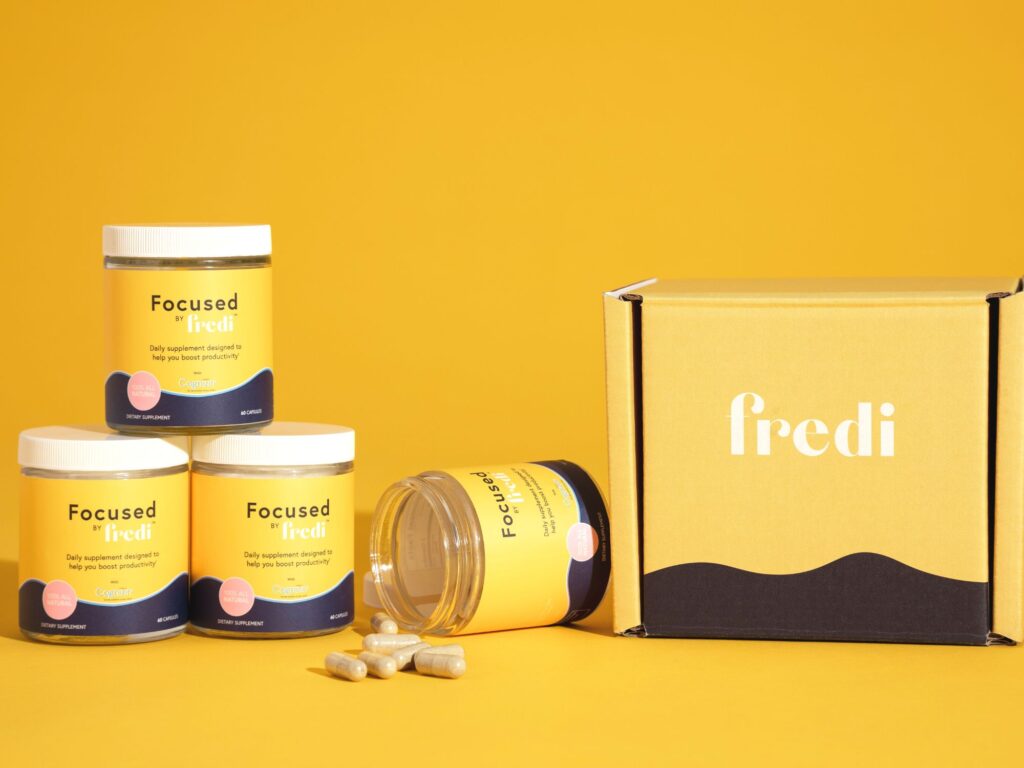 Selecting a color or design instead of a standard box is another great way to customize the packaging for your small business. Consider using your business's brand colors, or colors that are visually appealing and are in season. This could be on either the outer or inner part of the box. If you're trying to cut corners financially, selecting an inner box color may be more cost-efficient.
You could also get creative with the packaging on the inside of the box, as well. Think about anything you would put into your packages to help keep your products safe from being damaged. You can add colored or patterned tissue paper, or colored packing peanuts or bubblewrap. Any supplies you use, you should be considering ways you can customize it.
Freebies + Samples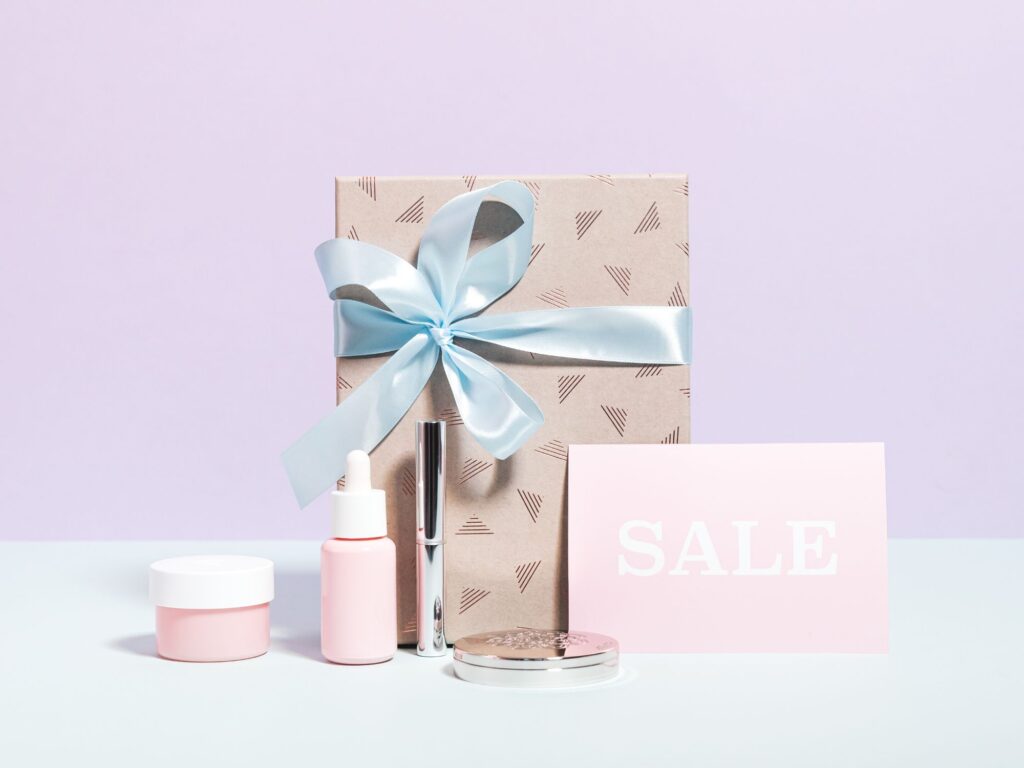 Everyone loves free stuff! Do you have any new products you're working on that you would like to tease to your customers? What about overstocked products? Or products that you ended up not using? Odds are, you have one of these 3 things! If they are small enough, you should put these items in the packages of your online sales, or at least create sample sizes to share. Customers are typically pleasantly surprised when they get extra goodies within their orders. This is a great way for them to experience using other products of yours that they may not typically order. It also creates excitement around the customer ordering from you again. Samples are one of the great creative ways to customize your small business's packaging, and you should take advantage of that!
Discount Codes for Next Time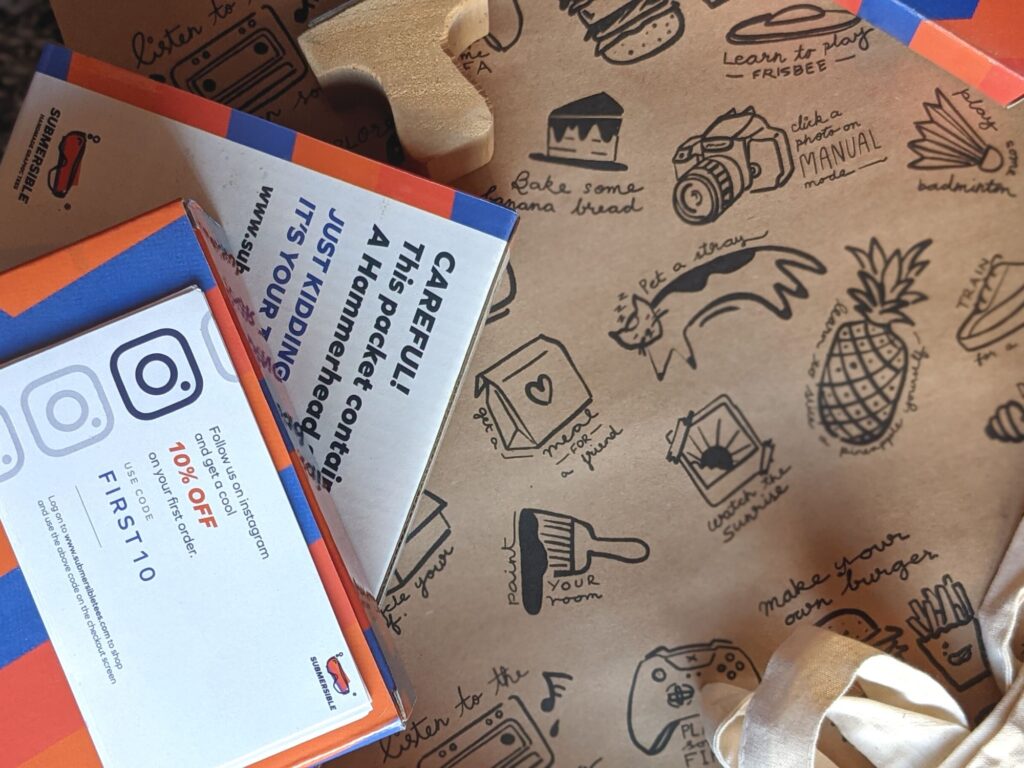 You can't go wrong with sharing discount codes for the next time your customers shop with you. Similar to how you can create pre-made notes, you can do the same with discount code cards. Create a unique code for your shoppers and place it on a fun card within their package of their order. Not only will this give an incentive to shop again, but it can be a good way to show your appreciation for their business. This doesn't have to be anything crazy in numbers. We recommend giving 10-15%. If you're a resident in the United States, this is a good way to cut off tax on the times your customers buy from you. A good incentive to buy as a shopper.
Through handwritten notes, customized shipping supplies, freebies and discount codes you should now be able to compose 5 creative ways to customize your small business's packaging. Have you experimented with customized packaging already? Tell us in the comments what worked best for your small business! We want to know where you ordered from!
---
To learn about how Inventora can help streamline your handmade business join our newsletter below, or get started for free with the hobby plan today! Members who join our newsletter get exclusive deals and insights. Don't miss out!