Running a jewelry business and being an entrepreneur is not an easy ambition. There are many tasks that need to get done. We know time can feel short when you are doing everything by yourself. There is a famous quote that reads "work smarter, not harder". This is good advice to analyze your operations. See which processes you can automate to simplify your tasks and focus on what you enjoy the most; creating. In this article you'll learn 7 key inventory management features for jewelry businesses, how each feature will be essential for the success of your business, and understand how to get started with a inventory system for jewelry businesses.
What is Inventory Management?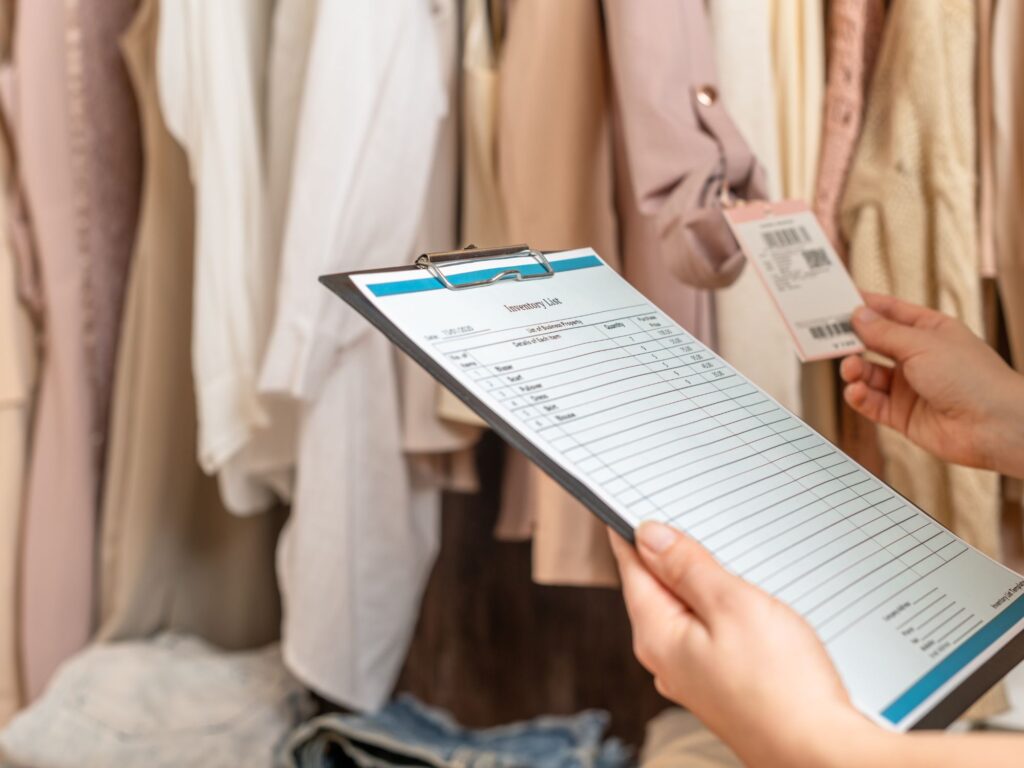 Let's start with the basics… What is inventory management? Inventory management is any system that allows you to see how much stock you need to order. It will also alert you when to order it. The inventory management process covers everything from raw goods to finished goods, storing, and selling. It is important to understand the significance of a good inventory management system. This is because it is going to help with managing costs. Additionally, this will help ensure you have an ample supply of products to meet customer demand. Poorly-handled inventory management can result in a business either losing money on potential sales that can't be filled. Or by wasting money by overstock supplies and materials that you aren't in direct need of.
4 Basic Inventory Account Categories
An inventory account typically consists of four basic categories: Raw materials, goods in process, finished goods, and merchandise. Let's break each of these down…
Raw Materials
Your raw materials are all the materials needed for the product production process. For example, this could be the chain, wire, or beads you use for your handmade jewelry.

Goods in Process
Goods in Process is when your raw materials are in the process of being transformed into a finished product. This is the physical production part of inventory management for your handmade business.

Finished Goods
Finished goods are the products that are ready and available for sale to customers. This is your ready to sell inventory. Finished goods are the items that should be fully completed and ready to grab off your shelves.

Merchandise
Your merchandise is similar to finished goods. Merchandise represents the finished goods a company buys from a supplier for future resale. This is crucial to keep track of. As you don't ever want to have a miscalculation with wholesale or consignment partners. Pro tip: You can learn more about how to get started with wholesale by using Inventora
Keep in mind that inventory management will look different for every business. This is why you need to think about your business needs to implement the correct inventory management. For some businesses, this can be a more challenging process. Understand that the more inventory you have, the more management features you'll need. This will be necessary to possess for automating your jewelry business successfully.
Automating Your Jewelry Business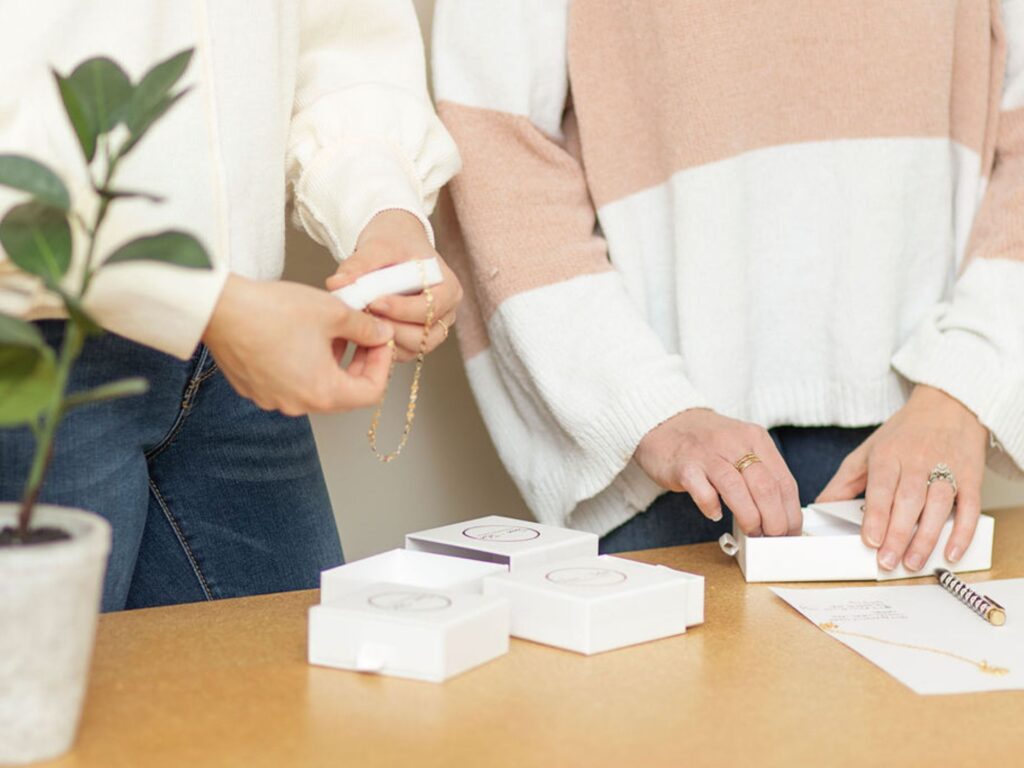 Automating your business is essential to efficient functionality. This is especially true for automating the inventory for your jewelry business. Investing in an inventory software that automates your business provides accurate, up-to-date information to make critical purchasing decisions. For example, when to replenish stock and which vendors to use. An inventory system for jewelry businesses can also help ensure accuracy in every process of your supply chain. You are able to have a better vision for product development and marketing strategies when you choose to automate your handmade business.
Using an inventory software allow you to save you time. It will also solve a lot of internal issues that can arise in the management of your business. This time saving and organization will allow you to run your business more smoothly. Additionally, this should open more room for new opportunities.
Key Inventory Management Software Benefits
Here are some of the key benefits having an inventory system for jewelry businesses:
Avoiding running out of stock.
This should be one of the top priorities for every business owner; no matter what you're selling. Running out of products can reflect poorly on the organization of your business, and cost you. When you don't have inventory available, you are running the risk of losing out on potential sales.

Knowing when items are expiring and when promotions are in need to move stock prior to that date.
This should be a bit obvious. You should be following the FIFO rule if you're not already. We understand not all products have an expiration date. Even so, you'll want to make sure your customers are receiving products in a logical order. Sometimes we change how we make things, or start using different materials. This can affect the appearance and quality of your handmade products. Therefore, you'll want to make sure your products are batched together so customers won't really notice if you change something.

Maintaining enough stock to account for normal increases in demand.
You'll also want to make sure your inventory reflects how quickly your products are selling. Having an inventory management software can help alert you when items start diminishing in stock.

Knowing which products have better performance and which ones are not selling.
Financially speaking, this will be a life saver for your handmade business. Sometimes it can be difficult to tell which items are the most popular and which are selling slower. An inventory software can track this for you. This then allows you to efficiently maintain the proper amount of resources you use to make your products. Thus saving your dollars in the end.

Tracking sales, costs, product invoices and reports, and communicating all information to accounting.
An inventory management software can track this for you. Plus allow you to have all this information in one place. This will be a huge time saver and organizational tool. You'll thank us later when tax season comes around.

Improving organization and time optimization.
This should be a priority for the functionality of your business and success rate of return customers. However, this should also be a priority for your sanity as a handmade business owner. The more organized you are, the better off you and your handmade business will be.
Choosing An Inventory Software for Your Jewelry Business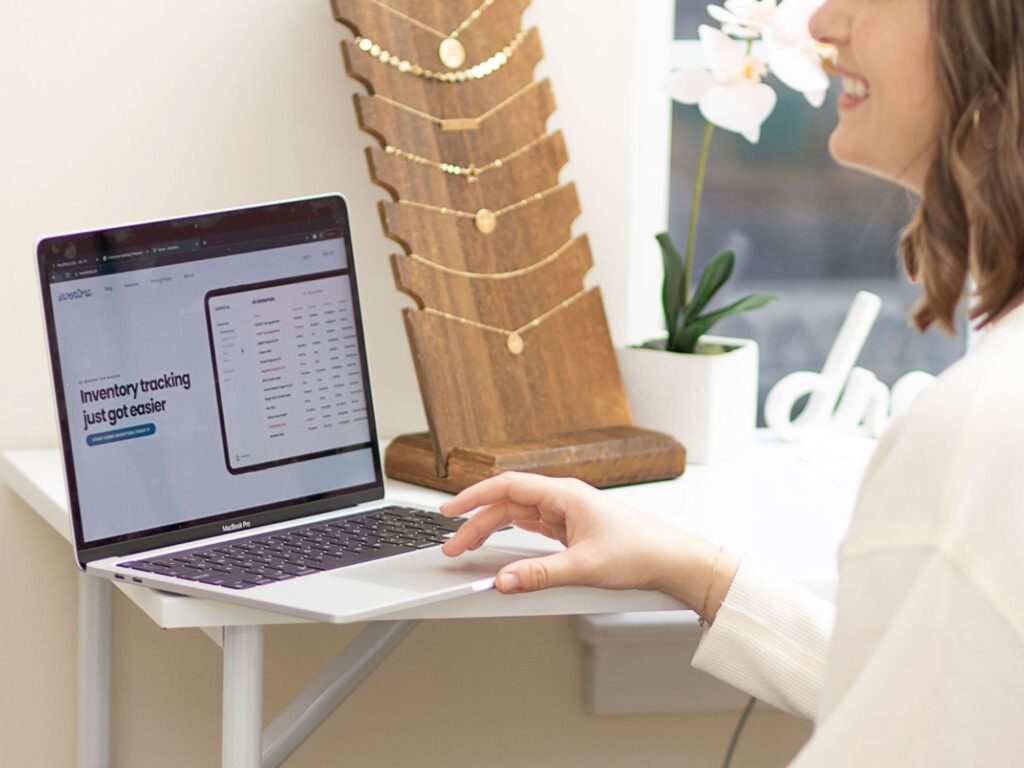 While selecting an inventory system for jewelry businesses, the business owner is probably considering what features are most important to their business. Odds are, accounting functionality is high on the list. This should be an important part of your inventory management features.
However, you should be searching for something that's more than just accounting software. Typical accounting softwares can give you the option to built-in inventory management functions. However, sometimes this can actually limit the functionality of your business. Not to mention, these types of softwares usually involve spreadsheets. Which is something that can be a nightmare for most of us.
You may be asking yourself now "what inventory management features are most important to my small business's functionality". Consider making a list of features that would make your day-to-day most effective for success and good time management.
Crucial Inventory Management Features
We've taken the liberty in conducting a list of features that should be most important in an inventory system for jewelry businesses. Let's discuss…
Real-Time Inventory Tracking
This should be an absolute basic requirement for your business. The inventory software you select must show you exactly what you have. Additionally, what you need to have in your stock. The system should allow you to add your sales and your orders. This will be essential to having good control over your products and supplies. Fewer mistakes will also be a benefit of having organized inventory management for jewelry businesses. Common errors like selling products twice, or miscalculating, will be quickly eliminated when inventory is organized properly. Inventora can be a great way to get started with this. If you're searching for a free inventory software for jewelry businesses, select our hobby plan to get organized at no cost.

Accurate Inventory Value Reporting
It's important to always know how much your inventory is worth. You'll want to have accurate inventory values that should show price variations. Track variable inventory costs like shipping fees. Have a clear view of your COGS, and have reports of the sales you've done weekly or monthly. Having these numbers on hand will allow you a feeling of relief in knowing your reports are in one place. Plus, this will keep your finances in order and reduce overspending; something that is so important when you're just starting out.

Reorder Points and Low Stock Alerts
If you know what stock you have, you'll definitely need something to let you know when you're about to run out of stock. Inventory software for jewelry businesses should have a way for you to know when you are about to run out of something. Or let you know when you've hit a minimum number of stock. This feature should also include the ability to add your supply orders. With this you can detect which products are your best sellers and how long each material lasts. Again, this can be crucial to the financial status of your business. You'll want to make sure you're not over buying. Although, it's equally important to make sure you're not under buying either.

Unlimited SKUs
You need to invest in an inventory system that doesn't give you a limit of SKUs, or stock keeping units. In other words, products that you can add into your inventory software. The same goes for any limits on customers, and suppliers. You need something that can be ready for the growth of your business. Don't undermine yourself by selecting an inventory software that doesn't have all the features to set your business up for success.

Proper Inventory Reporting
If you're going to be using an inventory system, it should allow you to create reports for your sales, materials, and products. The system should give you a very detailed view of each function and help make this process more efficient. Having this as a key inventory management feature should be a great priority. Not only for the simple functionality to create reports, but the organizational property of having all your reports in one place. Pro tip: This can be super important and useful for tax season. Inventora can help with this. As the inventory software has a feature to pull the needed information for your small business taxes.

eCommerce Platforms Integration
There's nothing better than having everything in just one place. The ability to sync your shop to an inventory system can help you to keep track of each sale and product availability. If you choose Inventora for your business's inventory management software, you'll be able to sync your shops with the most popular e-commerce sites. Such as, Shopify, Wix, Etsy, and Square. Determine which e-commerce site is best for your business.

Create Production Runs
This is the cherry on top of the perfect inventory software for jewelry businesses. Keeping track of your materials, products, and sales are a priority to any business. What can be better than a feature that allows you to create production runs for your orders? With this key inventory management feature, handmade business owners can organize which orders should be fulfilled first as a priority. This will drastically help meet delivery times and most efficiently gain financial stability for their handmade business.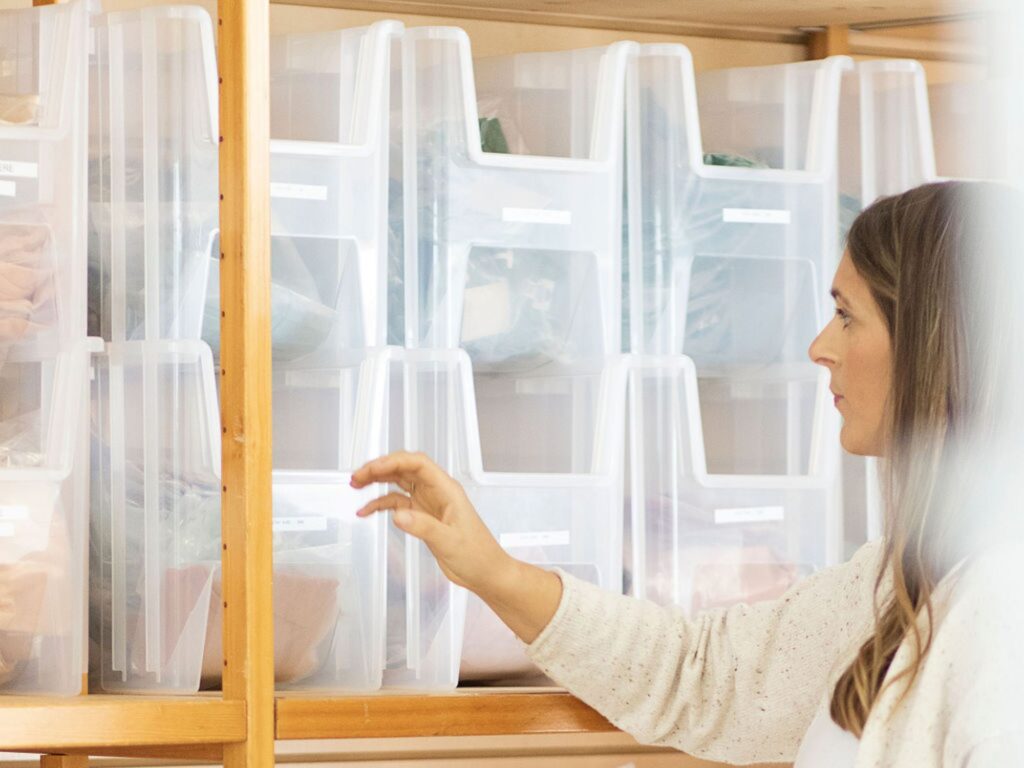 Learning about the key inventory management features for jewelry businesses may have you overwhelmed if you're just starting out. If your small business is in the beginning stages of production, then you should learn to learn at what stage of business you should start tracking your inventory. You should also be aware that inventory management will evolve over time as your company grows and adds additional products. This is why you need to choose wisely in an inventory system for jewelry businesses. Invest in a system that can follow you in the growth process of your business.
---
Now that we've mentioned the key inventory management features for jewelry businesses, we can proudly say that Inventora has each of these features, plus more. We design our system while thinking about the hand makers.
We do this because we know not all hand makers can fit their needs into those softwares that large corporations use. With the 100% industrial processes, each feature has been designed with the intention of facilitating your workflow and help streamline your business operations. Get started with a free inventory software for jewelry businesses at no cost with our hobby plan, or join Inventora's newsletter below to learn more about how Inventora can help your business streamline your business's inventory.
Join our Newsletter for Business Insights and More!